I told you I had another almost finished knit and I'm soooooo in love with it.
Presenting………………
                                                 GRETEL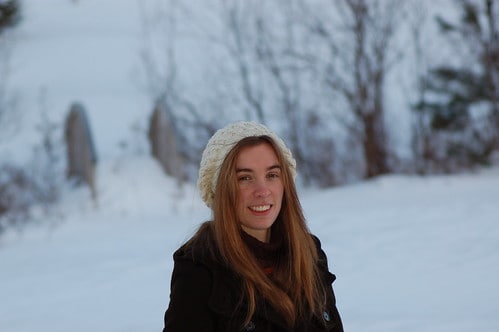 and a picture of the back….
This is Gretel by Ysolda
You can buy the pattern here for a meer 2 pounds, its WELL worth it!
Pattern: Gretel by Yosolda
Needles: 3.25mm and 4.5mm circs and dpns
Yarn: Cascade 220 colour 8010  1 skein
Start Date : dec 14th 2007
Finish Date : dec 17th 2007
I love this knit. It had lots of cabley goodness and the pattern was still very easy to follow. I didn't have the correct cast on needle size of 3.75mm so i used 3.25mm's which made it a little snug but its still fits nicely. Although alot of people on Ravelry had commented on how slouchy the Slouchy version was I went for it and it turned out just how I wanted it to. I first saw the pattern over at Carole's.Her daughter Hannah is just soooo pretty and looks great in anything so when I saw Gretel on her I HAD to make one pronto.