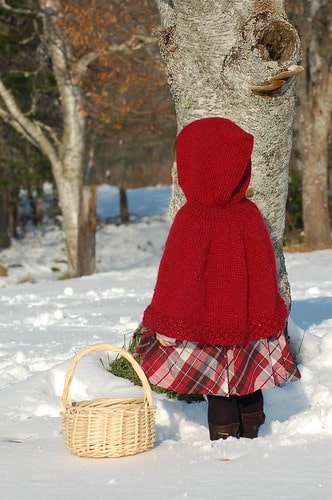 Eat your heart out Ysolda its Little Red On The Ridge!
Pattern:Capuchon by Tagil Perlmutter from Petite Purls 10
Yarn: Berroco Lustra 3.5 skeins
Mods: Instead of an i cord loop for the button I picked up 6 stitches on the side of the border, knit a few rows, added a buttonhole, knit a few more rows and bound off. I thought this would hold the cape on better and was concerned about it choking her all night.
The raspberry stitch border really sets the whole cape off. A sweet little touch.
Worn hood up or down you can't go wrong with this cape. The Lustra is held doubled creating a nice thick cape sure to keep the cold out. She will get plenty of use wearing it long after Halloween is over.
Don't forget a nice chunky button to finish it off.
There is of course a story to go along with the cape. I didn't really know what I wanted T to be this year and when I found a Little Red Riding Hood outfit in the store I thought oh this will do its cute. I wasn't crazy about the cape, it was one of those veloury type fabrics, you know that were all the rage in the 90's. BLECH! Anyway a week or two after I bought the outfit Petite Purls 10 went live and I gasped when I saw the most perfect Little Red cape ever!! I promptly took the costume back to the store and began my hunt for the yarn. Neither of my LYS's had it in stock but I needed it pronto if I was going to have it done in time. I found some on a destash on Rav and waited for it to arrive. Once it arrived I cast on, knit knit knit and then RAN OUT OF YARN!!! I bought 3 skeins which was what it called for in the pattern for T's size but it wasn't enough. I was 3 inches short on the hood with only a week to go till Halloween. I emailed the same girl I bought the first three from as she had 6 skeins altogether. She promptly replied and sent the yarn out same day for me. Thank you AMY! Halloween Day came and I didn't have any yarn….. my last hope was that it would arrive in the mail that day. I would knit during naptime and all would be well. So I wait and wait for the mail to arrive, it was a bit late in coming because The Ridge received a foot of snow the day before. It was then that I realized they wouldn't deliver the mail unless my mail box was shovelled out!!! Up T and I go to the mailbox, she sits in the truck while I dig my guts out trying to make a driveable path in and out of the mail box. The mail finally arrived that afternoon, I knit like the wind during nap, steamed those borders flat and sewed on the button just as we were going out the door!! Talk about cutting it close! Next year I will be more prepared!!
Of course we couldn't have Little Red without the Big Bad Wolf!!!
…….. our sweet Molly doesn't play a very big or bad wolf! Especially when he little brother is trying to bite her butt while mummy makes her sit.
Not to worry she got her revenge…. bonnet and all!
Happy Halloween!!