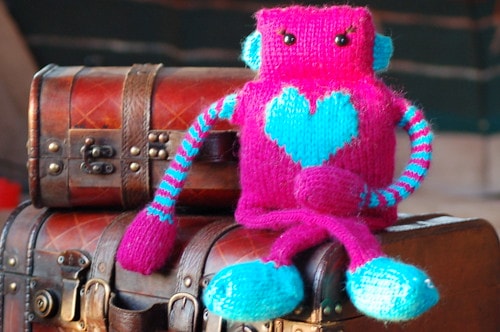 She's complete!!!
Holy cow I thought she was going to languish in a bag forever as body parts but after finishing my Rainbow Brite Socks I just got stuck in and finished her.
Pattern:Louie the LoveBot by DangerCrafts
Yarn: Stitch Nation by Debbie Stoller Full O' Sheep in Passionfruit and Aquamarine
She doesn't look too bad but I'm still not super happy with her. I don't think she is comparable to Franchesca so I'm going to make another Penelope for the cousin I was knitting Lou Lou for.
I loathed working with this yarn and I think this is ultimately where my love/hate relationship with Lou Lou came from. While sewing her up the yarn broke on more than one occasion just as I was about to finish sewing on a limb, talk about annoying. I've received many questions about this yarn wanting to know what I thought of it and because I still have quite a bit of each colour left, enough to make another Lou Lou in MC blue or MC pink, and clearly I won't be using it again, I thought I'd give it a good home where it would be used. If you're interested in knitting  a Lou Lou in these colours or want to try out the yarn leave a comment here and its yours. If more than one person is interested T will draw a name from a hat.
Are you wondering what happened to Lou Lou???
She found someone that was smitten with her, calls her by name and loves helping her to clap her hands and dance. It was just mean't to be!