Things don't seem to be going right for me knit wise this week.
Monday I realized I was using the wrong weight of yarn on a project…..
Today I realized that I made a mistake at the beginning of a shawl I started now that I'm halfway in…..
I was feeling rather frustrated about my wasted knitting time until I pulled out my blocking board to pin out this beauty!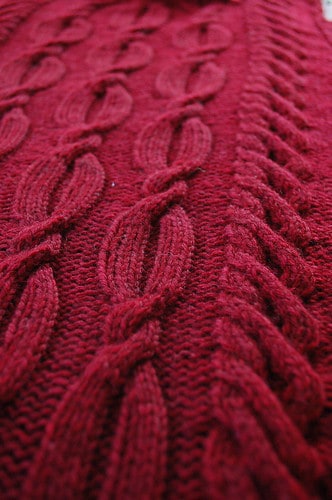 These are the gorgeous cables from a sweater I just finished.
The pattern in Elia by Julia Trice and the yarn is the very scrumptious Colour Adventures Bella Worsted in Sour Cherry. What an amazing pairing!
All will be revealed shortly!
I can't wait to show you the finished sweater. Its my first sweater knit with a hand dyed yarn!
I hope you have been having more lucky with your knitting than I have at the moment. Tell me, what are you knitting?