Wow loosing your internet SUCKS! Getting your internet back and only having it work in your cold basement isn't much better!
I'm happy to say I'm currently on the couch as I type and NOT standing on the cold cement basement floor. Hopefully we are back up for good.
So before I tell you about Thanksgiving weekend and the awesome weather we had I best wrap up Knit East.
You saw the shawl I knit for Sarah. In return I received this beauty from Sarah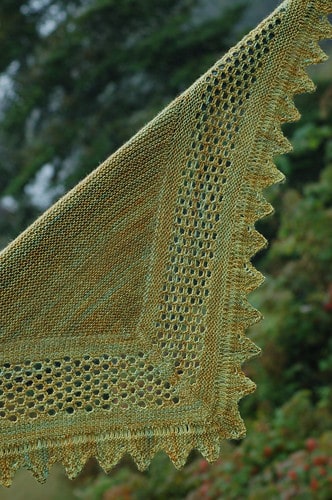 The pattern is Aestlight by Gudrun Johnston
The yarn is MadelineTosh Sock in Filagree
The colour is most true in this  picture  during Knit East. It rained…my hair poofs in rain… I can't however explain the crazed eyes I'm sporting. None the less it is a lovely addition to my Fall attire and has been worn a lot already.
The Yarn Harlot was not only a teacher at Knit East, we got to listen to her speak before the fashion show. She talked about the effects that knitting has on your brain and emotional well-being. We are all totally aware of that but it was interesting to hear of  different studies and statistics.
After the fashion show I met Gayle from Maine.  She introduced herself and said she reads my blog.
This never fails to freak me out. Well maybe not freak me out but I find it weird that people read my blog. I post and people comment but it always seems to skip my mind that OTHER people, that aren't commenting ARE reading.
Anyway Gayle was lovely, I probably seemed more hyped than usual with all the goings on and meeting someone who READS my blog IMAGINE!! hehehhe
I didn't get a chance to ask her what classes she was taking but I'm so glad she stopped by. Hi Gayle!!
I'm sure you're all wondering what class I took. Thats up next and will wrap up my Knit East posts.