I couldn't pass up this recent test knit for Vanessa of Knit Rhapsody.
If you haven't already checked out herotherpatterns I highly suggest you do, they are all swoon worthy.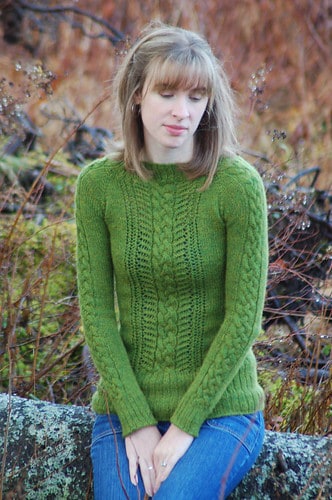 This is Julissa, Vanessa's first sweater design. I'd say she likes to start things off with a bang huh?
Julissa is knit top down and this is definitely the way I like to knit sweaters. I've done a few top down designs before with Lily but I've always had to go back and add the neckline afterwards. I love that this is cast on at the neck, knit, cast off at the bottom and seam a few stitches under the arm. Perfect!
I knit my version with Ultra Alpaca in Sweet Pea. I really have fallen for this yarn. I used the Ultra Alpaca  light version for T's Korrigan and the worsted for Julissa. They are all wonderful to work with and it comes in so many lovely heathered colours.
The cable and lace pattern is very flattering and looks fantastic on many shapes and sizes. If you check out the pattern page on Ravelry and see what I mean. This sweater will definitely get lots of wear and I fore-see more top down sweaters being knit in the future, they are soo comfy!
There is of course no show without Punch during a photo session.
Someone else wanted to "Sit on the tree with mummy."
What sweaters are you swooning over this year?