Lately my knitting has been geared towards smaller projects, ones I can bang out in a day or two. Part of that reason is because I've sworn to cast nothing else on the needles until I get my Anne Spencer completed…… well….. Anne Spencer has pissed me off and I don't know if you will ever get to see her. See mum was here the other night and in all my excited showed her my almost finished Spencer. It was all sew up with crochet edging etc the only thing I had yet to do was knit the sleeves and attach. So I pulled Spencer out of the knitting basket, tried it on and…………….. *insert waa won noise you hear after someone looses on The Price Is Right* it didn't fit. Well I shouldn't say that, it did fit but it wouldn't button. Cut off my boobs and it would have fit alright. Since when did MY boobs ever get in the way of me not fitting into something???? NEVER!!!! EVER EVER!!!!! This is completely ridiculous, I mean really is this some kind of JOKE????  GAHHHHHH!!! Talk about devastated, there was no way in heck it was buttoning up even the teenist bit!! Mum comes off with well you can just knit a button band on and then it will fit… yes yes, that would work if I had enough YARN!!!! I don't even have enough yarn to do the full sleeves in the pattern so I was just going to make little cap sleeves. I'm soooo ticked off at it right now its not even funny. That sweater was knit on size 2 needles which equals alot of dang time and now it doesn't even FIT????? ack I could throw something!!! I promptly soaked it again and put it back on the blocking board to try and block the crap out of the fronts, I know its not going to work. Its a cotton and doesn't have much give to it at all! Its not like I could just throw it aside and try a different yarn, oohhhhh no I will not be knitting this pattern again I'd had my fill of it after I was done the back and one front. I am saddened, deeply saddened!!
On a good note, I said I was knitting small projects, well i've got two FO's and they don't have to fit anyone or anything!!!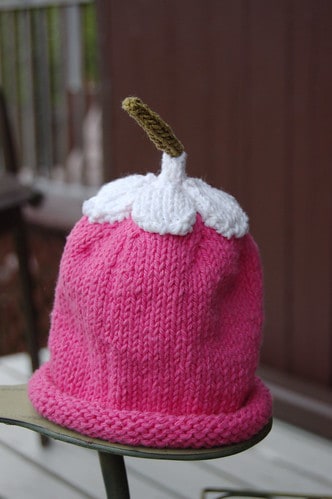 Upside Down Daisy Hat
Start Date: June 13th 2008
Finish Date: June 15th 2008
Pattern: Upside Down Daisy Hat from Itty Bitty Hats
Yarn: Sugar n Cream hot pink and white. Canasta green.
Needles: U.S. 7 DPN's
When I finished this hat I flipped through the book to see if I could knit anything else with the white cotton I had seeing how its a 1 pound ball. I cast of for another hat, that is yet to be embellished and this little cutie.
                                                                       Birthday Cake Hat
Start Date: June 16th 2008
Finish Date: June 22nd 2008
Pattern: Birthday Cake Hat from Itty Bitty Knits
Yarn: Sugar n Cream white and Canasta Green. Bernat Handicrafter yellow.
Needles: 5mm circs and dpns
                                               Molly thought she was finally getting people food
I also have a finished Clapotis. Its been finished for quite some time but I can't seem to get a good picture of it. Some day soon some day soon!