My kitchen has been hopping!
There are only 4 of these left from the batch I made a few days ago so I thought I'd better tell you about them before the only thing I have left to show are crumbs.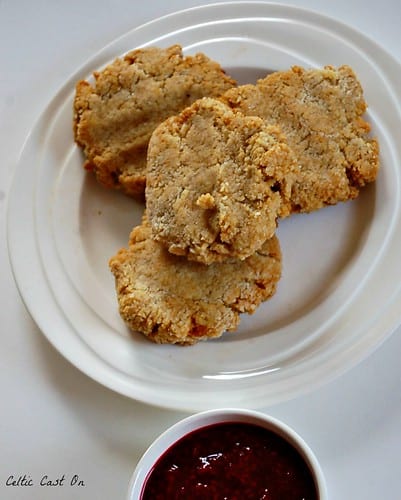 Things are getting easier with my new lifestyle change and eating good food all the time is just another part of my day and it feels great! I have so much more energy and cooking food is now an enjoyable part of my day instead of a last minute dash of what can I make. I'm enjoying trying new recipes and baking delicious things to fuel my body knowing they are 100% good for me.
My newest recipe trial were these ridiculously simple Paleo biscuits
Gluten and Grain free and totally delicious!
Yes I am still on the hunt for some breakfast foods and I think I might have found something this time. These take only a few mins to throw together and there is enough time to get a few rows of knitting in while you wait for them to come out of the oven. They stay fresh in an air tight container and are even a fabulous freezable snack as well. Freezable is always a bonus if you are running short on time, especially mornings.
*I flattened mine a little too much before putting them in the oven but they still taste delicious.*
I tried my hand at making some Paleo Jam a few weeks ago. With only 3 simple ingredients it was a pretty "no brainer" recipe for my first attempt. While I don't know that this jam is THE one, it's not exactly a sweet jam, it is definitely a start and you better believe we are going to be picking berries galore this year.
These biscuits were the perfect companion to my freshly made jam and definitely hit the spot for those morning foods I was kind of missing.