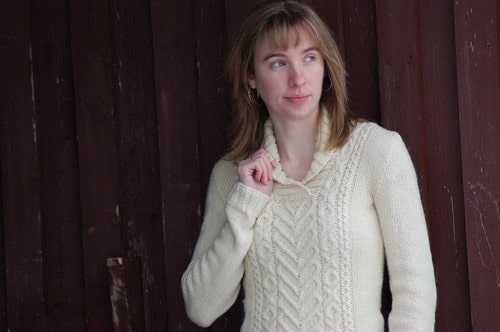 Pattern :I Heart Aran by Tanis Lavallee
Yarn : Lion Brand Fisherman's Wool in natural
Mods: Added two inches to the length of the body. In retrospect I should have added 4.
 Lengthened sleeves to 20 inches from cast on edge to under arm.
Well it sure did take me long enough to complete this one. I had 70% of it done in September of last year before I gave my head a shake, realized my gauge was OFF and it was going to be too tight. I'm amazed at how much knowledge I have gained since then with my sweater knitting.
I love that this pattern combines the simple stockinette and a big cabled section. It makes for an enjoyable knit! Just enough cables and the right amount of stockinette.
I'm a bit disappointed with the Fisherman's Wool this time. Now I'm not sure if it was just a crumby lot or if the natural yarn just differs from the nature's brown I used but the natural wasn't an even spin. There are think and thin bits throughout and it makes the sweater seem like it has imperfections through out. It seems to be a lot thinner than the brown too. My Classic Raglan and I Heart Aran are both knit with the same size needles and gauge but I Heart Aran is definitely more airy and lighter in weight overall.
The collar is the perfect touch that makes this sweater so cosy.I did omit the button, it just wasn't my style.  Every time I see it I think of sitting in a ski lodge by a roaring fire with a warm cup of tea.
A great little sweater that might just be the ticket for Ireland next month. It's kind of hard to pack at this time of year. Today Belfast is 14 C , 10 degrees warmer than us right now  but I have a feeling with the rain and damp I'll be needing a sweater as well.
I'll be able to decide more next week when I can see the long range forecast I suppose.