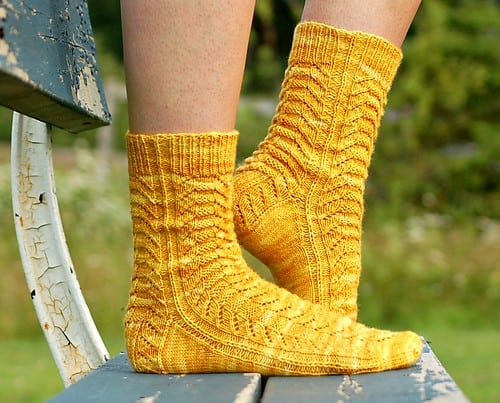 I mentioned before that I finished my Patina Socks and I finally got around to getting some pictures of them.
Pattern:Patina Socks by Tanis Lavallee
Yarn: Kona hand dyed by me
I have said it once and I've sure I will say it a million times more but Tanis just does socks right. Not too plain, not too futtery *yes that is a word*, just perfectly awesome.The little details that she adds all come together to make one cracking pair of socks!
My Patina's are definitely my favourite pair of socks to date. Partially because I hand dyed the yarn myself in the most perfect shades of sunshine yellow and I'm so pleased with how it turned out. But also because I paired the yarn with this gorgeous pattern.
It really makes them sing!
 Although it took longer than expected to knit these, there were a lot of interruptions along the way, they never reached a point that I felt like they were dragging on. I'd pick those needles full of sunshine up and knit along my merry way.
It is no surprise that yellow is my favourite colour but it still amazes me how our emotions  can be so strongly tied to certain colours. There is a house in the town closest to us that is painted a similar sunshine yellow. When I cross the bridge and my eye catches sight of that house looking so bright and cheery between all the others it just fills me with happy and I always remark on how much I love it.
I think I will have a similar reaction every time I reach for these socks from my drawer.
I may even break out some dancing to this…
Delight in the small things!!
I don't think I could top these Happy patina's if I tried but I just might have to knit this pattern again it was that much fun!