WOW!!!! First off let me say a huge THANK YOU!!! To all the Gretel love I have received. I'm glad i'm not alone in my love for her…. although I probably was the only one dancing around the house singing "oh what a beautiful hat!" *grins*
Next let me welcome you all to the first post of 2008 here at Celtic Cast On. I'm excited to see what this year will bring for us here on the ridge and hope you will join us for the ride.
I figured I might as well start things off with a bang so how about an FO???
Now truth be told I planned on having this done for christmas day….. then for the last day of 2007 but the Aran Accent Vest had other plans. She wanted to be the first FO to ring in the new year, so here she is.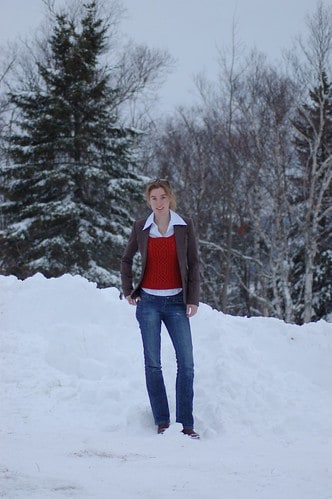 Pattern : Aran Accent Vest XS from Patons #846 Cables booklet
 Yarn : Classic Merino Wool  Colour : Paprika 2 3/4 balls
 Needles : US 6 and US 8
 Started : October 2007
Finished : January 1st 2008
I was hoping to have this finished to wear on christmas day but it didn't quite work out that way. I was run off my feet before christmas with work and then the 24th and 25th between work and running the roads visiting people I was just plain wiped out. The 27th I planned to knit as it was my only other day off before I went back to work but……. I vegged! If I could have turned into a potato I would have been one cause I didn't leave the couch all day save to let the dogs out. I Watched my new Harry Potter and the Order of the Phoneix dvd and started on the 3rd season of Beverly Hills 90210 Boston got me. I did info Moose that 90210 went of for 10 seasons so Boston will be buying me these for quite some time That VEG day and the past three that I've had off with Moose was JUST what I needed to recoup. We spent alot of time playing in the snow with the dogs, I can honestly say I haven't played in the snow like that since high school but it was soooo much fun. Tonight we are expecting our 4th snow storm in a week!! Its been crazy with all the snow, i've been enjoying it while i've been off work but tomorrow its back to the grind and I won't enjoy driving in it as much as playing in it.
Hopefully I'll have some snow play pictures for you next post! Hope your all enjoying your New Years!