This year when I asked T what she would like to be for Halloween she immediately said
A Pumpkin!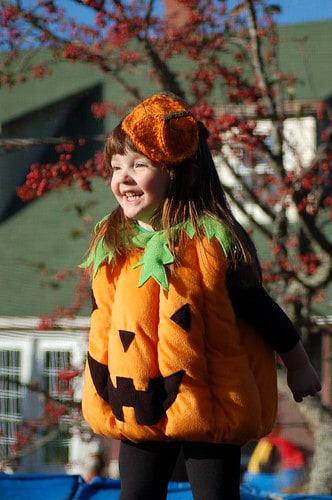 Ok I thought a pumpkin will be easy…. until she said "I want you to knit me a pumpkin!"
ummmmm really???
At first I really was going to knit her a pumpkin costume but when we walked into music class and saw THE perfect pumpkin in her size for sale she forgot all about the knit one.
I did however make her a little pumkin top to go with it.
A simple little fascinator attached to a headband that worked perfectly.
I used Cabin Fever Northern Wool in the Pumpkin Colourway and a bit of extra cascade 220 held doubled I had left over from Woodstove Season. I whipped this up in about 20 minutes!
Of course there is no show without Punch…. eerrr Molly!
She has been in every Halloween photo so far so why should this one be any different.
Poor Molly wasn't too interested in pictures this time…. it was around the time that daddy comes home from work and she was listening very carefully for truck. I see I will have to time my photo shoots around home time from now on!
 Now if you'll excuse us we're off to take this little pumpkin trick or treating!