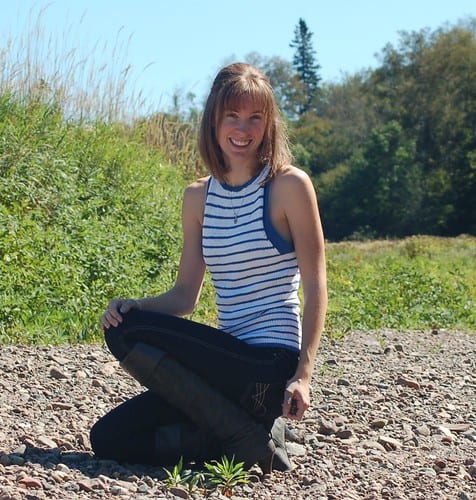 My version of Lily's newest design in the works, Hallin!
You may notice that in Lily's Hallin she used mohair ridges to add some texture to her tank. I knew I wanted to do stripes but the ridge and stripe combo just wasn't working so I omitted the mohair and went with a fully striped version.
I used two colours of Elann Lara for this tank. The same yarn I used for Xia but I don't think it was the right yarn for the job. This yarn does grow when blocked and has no real bounce. I think this design would wear better with a more springy yarn that would bounce back after blocking. I do however love this colour combo and how it turned out.
While knitting I was a little worried that the front was going to be too small with not enough coverage. I know there is always a reason for every element Lily adds to her designs so I forged on with faith . I love how the armholes look in a contrasting colour with extra shaping and the turned hem is a favourite of mine that makes a knit look clean and polished.
This is going to be a great layering piece that I hope to use most of the year. Knitting stripes was very fun and made this knit fly off the needles.
I'm feeling the need for another little stripey something!