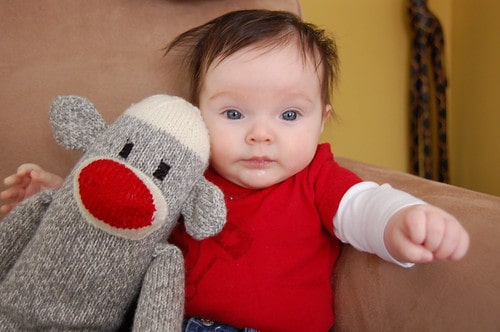 Pattern: Basic Knit Sock Monkey by Patons
Yarn: Patons Classic Wool in light grey mix, aran, bright red.
Needles: 3.75mm dpns
Start Date: Feb 12th 2010
Finish Date: Feb 24th 2010
Very cute pattern and easy to knit but a little boring. After knitting two tube legs the thoughts of knitting 3 more for arms and a tail was anything but appealing.  He turned very well a little bit shorter than Tadpole but not by much.
T gave him the once over with the official taste test, deeming him ready for action.
Moose commented well what if T wants a whole family of monkey's??? ughhhhh then I'll be knitting sock monkey's for the rest of my days!!! Hopefully that won't be for a few years yet though!