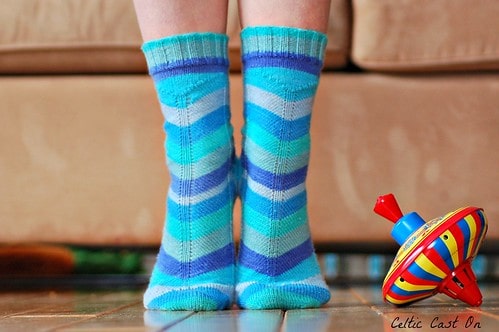 Pattern: Partying Up and Getting Down Socks by Megan Williams
Yarn:Knit Picks Felici in High Tide
 I finished my Getting Down Socks. The pattern for these socks is actually one toe up sock *thats the partying up part* and one top down sock. *the getting down part* A genius idea of Megan's!  She very kindly gifted me the pattern which I had been eyeing for a while and I cast on right away. I really wanted to do these top down, still not in love with the fit of toe up, so I did both socks in the same pattern.
 The design itself was very easy to follow and once you do the set up rows it is smooth sailing. This was one of those patterns that is very easy to memorize and so enjoyable to knit. A great way to use self striping that isn't plain vanilla socks.
I used Felici once again. I really love this yarn, it wears extremely well and comes in fantastic colours that make sock knitting a little more fun.
I can't wait to see the new Felici colour line this year!
I was a bit worried when I tried these on after finishing the second sock.
They seemed tight, a bit too tight I thought, but I'm happy to say that wearing them around the house and taking them on and off a few times has loosed them up to fit perfectly.
Getting Down in these socks is definitely going to help me get through the rest of winter!