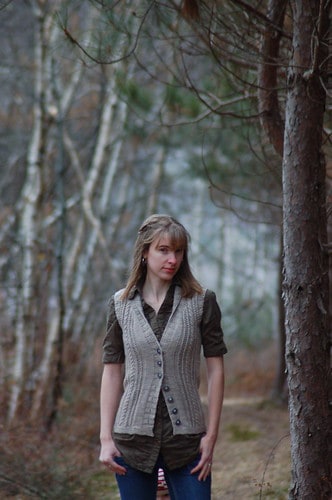 Pattern: Gamine by Tori Gurbisz of Lachesis & Co
Yarn: Paton's Classic Wool
Ok so I lied but not intentionally…. Gamine is my final FO of 2011.
I was all set to frog back and move the button-hole positions up two stitches but when I realized I would have to frog the hem, collar AND both button bands I decided I could live with it.
This was a test knit for Tori of her wonderful cabled vest design, Gamine.
Isn't that back panel fabulous??
The construction of this vest reminded me of  knitting  Agatha. Like Agatha this is also knit top down, starting with the back you knit to the under arm then knit each of the front pieces before joining in the round to knit the body.
I really enjoy knitting garments this way. Not only is there no seaming but you get a really good idea of fit as you go.
Originally I had sewn on brown leather buttons but they were just too "grampa`s cardigan" for my liking. I took mum with me shopping for some new ones and she came through, as usual, with a button that pulls out the beige and grey flecks in the vest. Thanks Ma!
This is a great layering piece that looks great dressed up or something I can just throw on at home for that bit of extra warmth this winter.
A great garment to round out 2011.