While I was waiting for Elia to dry and and avoiding all those projects that I was having bother with I picked up my French Braid Cardigan and FINISHED IT!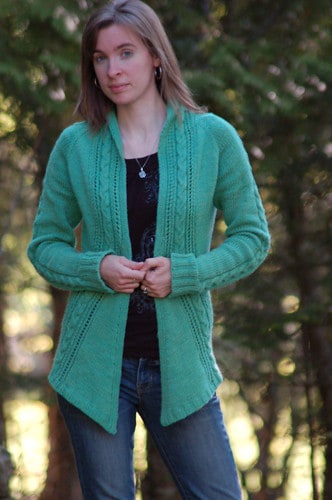 I think I can hear Tanis yelling at the screen, FINALLY!!
Pattern: French Braid Cardigan
Yarn: Ella Rae Classics
I only cast on for this the day it was released. Then I became buried under a pile of test knits and I didn't want to pick it up until I knew I could commit the time to work solely on it and finish.
I am so glad I picked this one back up because I absolutely love it and am getting some good wear out of it right now.
This is once again another great pattern from Tanis. Her patterns are always so nicely written and easy to follow. The cardigan has minimal finishing too. It is knit top down starting with the collar so it really is a matter of weaving in 3 ends once you bind off and volia instant cardi. No picking up stitches is a definite bonus in my book. I love the cable and lace pattern that travels around the neck and then slowly starts to sweep outwards.
The sizing is more of a relaxed fit, perfect to throw on over jeans and a tee for a super comfy outfit but would also looking smashing over a dress or smarter attire. This really is something that could be worked into any part of your wardrobe.
I chose Ella Rae Classic that I had just received from a destash sale. I was expecting a completely different shade of green and wasn't sure I was going to like it at all knit up but I think it grew on me while I was knitting it. It was my first time knitting with Ella Rae Classic and I will definitely be on the look out for more. Its such a plump yarn with great squoosh factor, much nicer than Cascade that seems to thin out when knit.
Renee Anne saved my bacon when I realized that I was going to be one ball short of having enough yardage. I sent her a rav message because she had one skein in her stash in the same lot and she kindly sent it on its way. I needed every bit of that ball because I literally had two yards left once I bound off.
 There was a little bit of griping heard from my photographer today that he wasn't getting props for the photo's he was taking. I told him that photographers on this blog work behind the scenes…. Thanks Dad for taking the time to make sure I was happy these.
That was my only garment WIP……… what will be next????