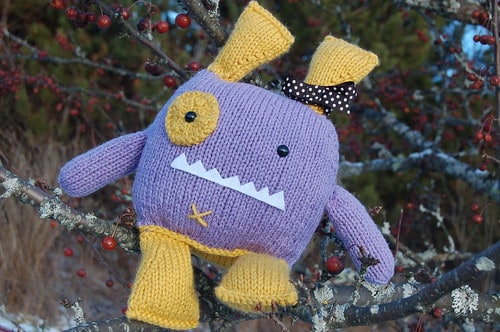 Pattern:Penelope by DangerCrafts
 Yarn: Cascade 220 and Vanna's Choice Solids
Needles: 5.5mm
Franchesca is the fraternal twin to Penelope that I knit for T last year.This one will be going to one of 3 young cousin's on Moose's side of the family, once I get two other gifts finished.   
 Again I held the yarn doubled in order to make a good sized huggable  monster.
 It's not very often that I knit a pattern twice but these monsters are so cute that I just couldn't help myself. I does help that the colour possibilities are endless and make each monster unique.
It only took two nights to complete all the pieces and then over a month to find time to  sew them up… such is life!   
I have another DangerCraft pattern at the ready but it will have to wait until after christmas. I still have a few WIP's lingering in the basket.