I finished the For Good Hat for T but things didn't quite go as planned.
Once I finished the ribbing I realized this hat was NOT going to fit over T's head.
Apparently I was sleeping when I cast on the smallest size knowing full well that her head is almost the same size as mine!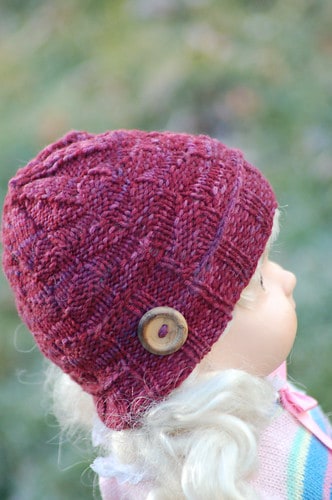 Instead of ripping out and knitting it in a bigger size T and I decided that the hat would be perfect for her favourite doll Cricket. I continued on and in no time it was done. T helped me choose a button to finish it off.
T is quite tickled at the thought of Cricket having her own winter hat.I'm sure these two will have lots of adventures in the snow this winter.
If you haven't heard of or recognize Cricket she is a doll from the 80's and this particular one was mine. She has a tape player in her back and her mouth and eyes move when she talks, much like Teddy Ruxpin
T has really taken to Cricket, when she first started playing with it, Cricket was actually bigger than her.It was funny watching her trying to drag her around the house. Now they are more like besties.
Once Cricket had her hat, T and I searched through my stash to find something for her hat.
T chose a lovely blue skein from my stash. *everything is blue with her right now*
This is a special skein of Fleece Artist's Knit East yarn that I received in my registration bag at Knit East last year. The colourway is Safe Harbour and is more beautiful knit up than the skein would suggest.
This one is a much better fit and actually fit's me too so I might be able to borrow it here and there when she's not using it.
This may look like a normal beanie but the construction is actually very different. You knit the brim then cast off most of the stitches before picking them up again creating that great horizontal stitch all the way around the brim.
The stitch pattern is easy to memorize and definitely pops in a mostly solid colourway.
I think I just may need my own For Good hat but I've got a few things that need finished up before then.