Well hello!!!!
Two snow days in a row means I have an FO and a blog post. How about that now?
We experienced Blizzard Colbie yesterday as did much of the eastern America and Canada. It is still snowing here today with icy conditions so we've been extra lucky to have another snow day today too.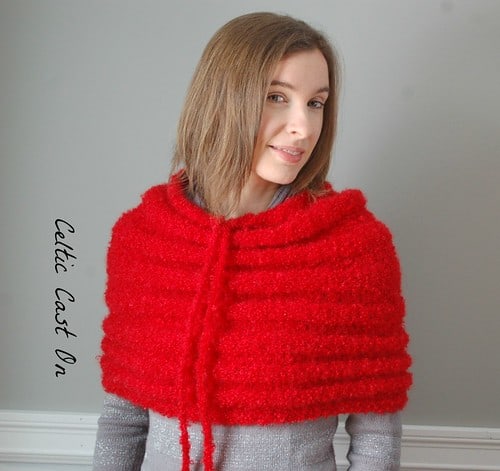 Pattern: My own
Yarn: Clifton Woolens Boucle
Needles: 5.5 mm's
A co worker asked me to make her a snood before Christmas. She is an artsy gal and I knew my hand knit would be appreciated so I agreed. She brought me this red boucle from a local dyer but I didn't get around to casting on until a few weeks ago.
You see the day after Christmas, Moose and I decided to completely gut the living and dining rooms and make them new. It was messy! Old carpet ripped up and crack fill dust everywhere, definitely not the place for a knit in progress to be. I'll talk more about the reno's in a future post but if you look closely at my FO pics you might see my new wall colour and chair rail
As you can see this "Snood" is going to be very versatile. I can wear it as a capelet, fold it over to be a nice warm cowl and also pull it up over my head and use the drawstrings for  a neck warmer/hood combo.
My girl took these pics for me and she kinda brings out the silly in me. I feel more comfortable in front of the camera when she is taking the pictures compared to Moose the "hurry up and get this over with" picture taker. He needs to take some lessons from T me thinks.
I can't honestly say I enjoy working with boucle. It does get easier to work with as you go along and creates the most cosy fabric but it's just those loops, you catch one at the wrong time and it messes with your flow.
I think it turned out well and hopefully this will keep her warm for many winters to come.
First FO of 2015! HUZZAH!
I'll be back to tell you about the current reno's and it is most definitely time for some selfish knitting. Sweaters! The sweaters are calling!