Saturday night we got the first snow of the season, about 3 inches. The good thing about being in the country is that it stays longer so Sunday we were able to take the dogs out and enjoy it.
Here's Bosty Saturday night as the snow was just starting to fall.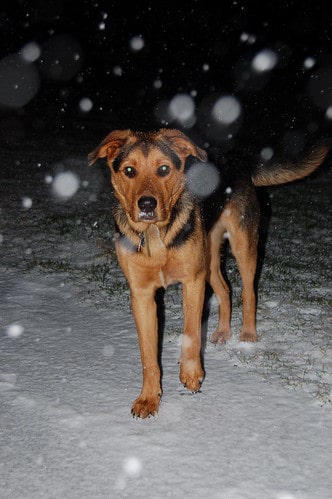 ~ Ok Mum what's with the white stuff?? ~  
The next day……
   ~ Sniff sniff sniff!! Can I eat it mum?? ~
  ~ PFFTTT What an amateur…. its just snow ~
  ~ This is soooooooo coool!!!! And I can eat it ALL!!!!  ~
There was of course a family picture, I wanted to send it to our sponsor children as some of them have never seen snow before and have no idea what its even like. I used the timer but everytime I ran back over the dogs thought I was playing…… this is the best shot of the lot.
It is actually a very good picture of what things are normally like with us, Boston trying to eat Molly and Molly glued to daddy's side I love my dogs!
It hasn't all been fun though….
Yesterday I found out my friend (co worker) that was terminal, the one I knit the prayer shawl for, passed away saturday night. It was a sad day yesterday at work but I am so glad she's no longer in pain and is in a better place. My heart goes out to her husband and family as they are the ones that now need to continue on without this wonderful person.
Rest in Peace my dear friend, Rest in Peace.