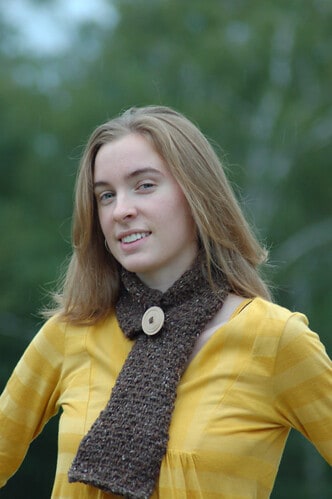 Pattern: Cashmere Neckwarmer by Kim K.
Start Date: September 1st 2008
Finish Date: September 1st 2008
Yarn: Queensland Kathmandu Aran in Brown
Needles: US 11
This was a quick little knit I polished off while watching my newest obsession 24. I'm nearing the end of the first season and can't wait to get stuck into the next 6.
Queensland Kathmandu is such a yummy yarn, I had two balls left over from Moose's Cobblestone so I thought i'd whip up a nice little neckwarmer just in time for fall. The weather here as been rather fall ish with the odd hot day here and there so i'm thinking i'll be using this soon rather than later.
It's long enough that I can tuck it into my jacket for a little bit of extra warmth when it gets really cold…… I'm trying not to think about that yet but it will be fastly approaching!
I finished it off with a nice chunky wooden button, delic!!
I have been getting geared up for the cold season, but this week, and for the last few months now I have been sweating my hole off piling wood. We ran out of wood last year so this year we ended up getting 6 cord and it was lucky me who gets to pile it.
Last years process took a LONG time because I was using a small 4 wheeler trailer to cart the wood from the pile, to the basement door and then wheel it inside with the wheelbarrow. Not this year, this year I have the tractor and a large trailer that I am piling as high as I can get it before taking it around back.
I was doing pretty good, the pile was slowly but surely getting smaller with each load but I was really getting sick of seeing that pile of wood everytime I walked out the door so I grabbed Moose on Sunday and we assessed the damage. He figured I had a good 6 trailer loads full left before the pile was finito so a challenge was born.
My challenge was to get it done by the weeks end. If I did two loads a day for 3 days it would be done. Of course things and appointments happen that cause 2 loads not to get done in a day but I still figured I could get it done by the weeks end. Today is Friday and baby I just finished the last load of wood!!!!
I had one load left to do and was determined to get it done today and then I wouldn't have to look at another wood pile until next year.
Of course it had to be boiling hot out!! The heat factor paired with coveralls, gloves and wellies makes it sweaty work. I did however have my trusty helper.
And….. my not so trusty helper……
Sweet victory was mine when I picked up the last log from the trailer!!!
Those coveralls look hot huh *wink wink*
Challenge complete!!! Done for another year!!!
*you can't see them but there are two more rows behind that one*