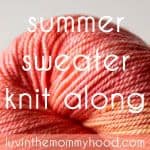 Finally!!
Farrah is finished !
Pattern:Farrah from Berroco Glint #306
Yarn: Berroco Glint Colour 2901 Goddess 7 balls
Mods: no mods other than to add one row to the neckline with a couple of decreases so it wasn't so wide.
The only issue I had with the pattern, and I wouldn't really say its an issue but I used 2 balls less than what was set for mum's size. It doesn't seem like a lot but its almost $20 difference in the size of the sweater.
I have six balls left over from the kit that I plan on selling too if anyone is interested. You could definitely squeak out a 32 with that.
 This was a simple soothing knit with lots of stockinette and some yo's to keep your attention.
If I hadn't have gotten caught up in all those test knits it definitely would have been done long ago!
Such a simple sweater that makes a great statement.
I think I'd fancy this one in brown tweed for myself.
It suits mum perfectly and I think she's already thinking about what she wants me to knit for her for Winter.
It's pay back for all those hand knits she knit me growing up and I don't mind a bit!
I wanted to share a bit with you on how this sweater was knit.
Here's a look at it blocking before I started seaming.
You begin by casting on at the bottom edge of the back. The back is then knit, increasing for the sleeves when you get to the top.
The sleeves are then knit leaving an opening for the neck and decreased back down to finish off the front.
It's the first time I've knit a garment like this and it was pretty interesting.
 and with the resident blocker!