Well today is an exciting day here at Celtic Cast On…. its KNITTING DAY!!! Finally I get to sit down and just knit away my cares, and not by myself mind you, Heidi's coming over to join me. Heidi hasn't been a knitting for very long but she's hooked 100%, obsessed, lives breaths and dreams yarn… just like the rest of us. I'm soooo glad my knitting friend is in so deep, with us!!! Today though is a special day for Heidi, I'm going to be introducing her to sock yarn!!! She already knit her first pair of socks with 100% wool but before she jumps off the deep end into the yummy world of sock yarn I told her I'd show her what she's in for and this way she can pick a brand she'd like to start with. I'm excited to show her my stash as it has grown to a fair amount in the past year. She'll have plenty of skeins to oogle over, here's a little sneak peak for her.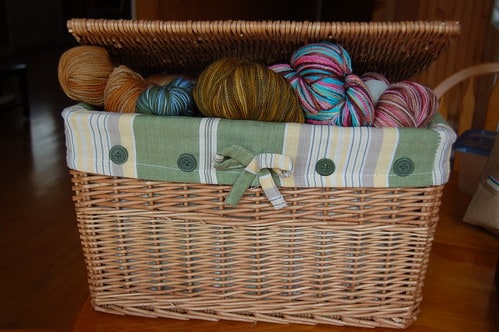 She'll also get to thumb through the yarn books in my collection too, and i'm sure she will be adding a few key ones to her wish list. I was a little worried of what Jon *Heidi' husband* might think of me if she comes home raving about all the sock yarn and books she'd want to buy so I thought I'd give him fair warning. Click HERE to see the email I sent him and his reply!!
Heidi's daughter Faith just started a blog. She's 10 years old and a fabulous little knitter. Go on over and welcome her to the Knit blog community!
Here's a little something I whipped up last week.
ok ok I didn't whip that up. It was actually gifted to me. See tomorrow is my boss's last day of work before she is transferred. The other day she came in with this on, I grabbed her arm and said oohhhhh I want your jacket!!! She explained how she'd had it since she was 19, well that was more than 20 year ago now. It is still in great condition, just needs a little bath. Yesterday she said she wanted me to have it as it was too small for her anyway. There are some peep holes showing under the arms were the sewing broke but that is easily fixed, I can't wait to wear it!
My bro emailed me pics the other day of a new addition to the family
This is Loki! He's only a few weeks old and I'm dying to go up and see him. He's oohhh sooo cute, I need to find a little something to take to him.
I'll have some knitting pics later today!
OH MY I FORGOT TO ADD!!! We have had an offer accepted on another fixer upper, so pending the water test the house will be ours at the end of the month That is all!