It's that time of year when I start thinking about emptying out the WIP basket and finishing things off.
With Christmas break quickly approaching my mind has begun to wonder about possible new projects to cast on but some things must get finished before that can happen.
I currently have 6 active WIP's on the go with about a 3 week time frame to finish. I'm NOT go to finish them all lets face it and I'm not turning this into a race, we all know Christmas is stressful enough so I'm going to pick away at my WIP's and hope to get something accomplished before I pull any new yarns out. (I do have some exciting projects planned though but I'll save that for another post)
Number one on the list is a new WIP that I just started last weekend. My mum asked if I could knit my Nanny a shawl for her birthday which falls right after christmas. She thought something similar to the Miss Dashwood shawl I knit for her at the beginning of the year would be nice. I am not a huge fan of knitting the same pattern twice, although I definitely would if it came down to it. Mum and I looked at many shawl patterns and she just kept coming back to Paulina P's designs, mum knows what she likes.
She chose Miss Bennett by Paulina Popiolek another that was on my list to knit.This design calls for fingering but my version will be slightly larger with a sport/dk and a larger needle.
Speaking of mum knowing what she likes…. I took her to my LYS to pick out some yarn for said shawl. She headed straight for the Tosh, Pashmina at that!! Dang mum's got expensive yarn taste! We walked away with two skeins of Madelinetosh Pashmina in the Escoteric colourway.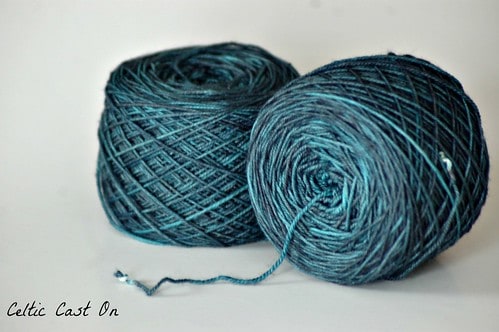 A beauty huh?
I was rather intimidated before starting my last Paulina P design but I think I've got the hang of her style now and hopefully it will go off without a hitch!
I think by the time I'm finished with the knitting it will be very hard to part with…..