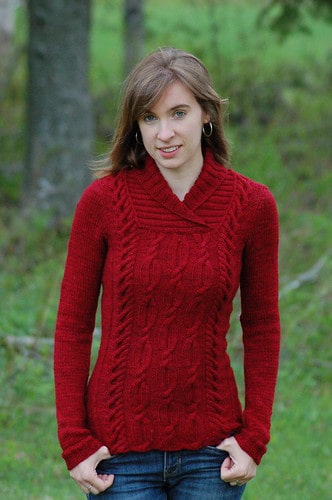 Here she is, and I'm smitten!
Pattern:Elia by Julia Trice
Yarn:Colour Adventures Bella Worsted in Sour Cherry
Holy Heck I don't think the combo for this sweater could be more perfect.
Cables, shawl collar, stunning colour!
The yarn was a gift from my lovely friend Elena of Colour Adventures. This was my first time knitting a garment with a hand dyed yarn. I'm always a bit nervous using hand dyes because I don't enjoy the stripes and variegation that some hand dyes produce and I guess that makes me just so darn picky.
I can't get over how perfectly this yarn was dyed. Like it was made just for me. The subtle tones are perfect and it just blends together so beautifully. The Sour Cherry colourway is such a gorgeous tone and suits Elia perfectly.
Julia really knocked it out of the park when she designed this gorgeous sweater.
Elia is knit from the bottom up to the armholes, producing mirrored cables on the front and back. It is the separated to knit the front and back before joining and adding the shawl collar. The sleeves were knit separately and set in. While it did take some time to set those sleeves in, stockinette sleeves to a garter body it was well worth the time. Seaming can really make or break a sweater and I wasn't about to botch this beauty with poor seaming.
Julia's pattern is so well written.  She has included stitch counts, row counts and a very handy cheat sheet that lays out each row of the pattern, waist shaping and what corresponding row of each cable chart you are on. Genius!
There are also two length options in the pattern. I of course knit the longer version and added a bit of length to the sleeves as well since my body type is beanpole.
I love shawl collars!  I'm always cold and used to wear turtlenecks all the time but since having T I don't really care for the tight ones around my neck anymore. The shawl collar is the right amount of cosiness without the tight restriction. The collar on Elia is quite high up and I wasn't sure what it would look like or feel like but I am happy to report I absolutely love it. No restriction and just the right amount of cosy. I think I would add a shawl collar to every sweater if I could.
Huge thank you to Elena and Julia for helping me create one hell of a sweater!
It's almost June and one would think I wouldn't be sporting a wool sweater at this time of year but it looks like I'll be wearing this one for a little while longer on The Ridge. I'm looking forward to it warming up but until then I will be sporting this sweater and enjoying every minute of it.