GAHHHHH! I love that I just lost everything I wrote on this post when I tried to publish it! Ok this is going to be quick as little T will be waking up any time.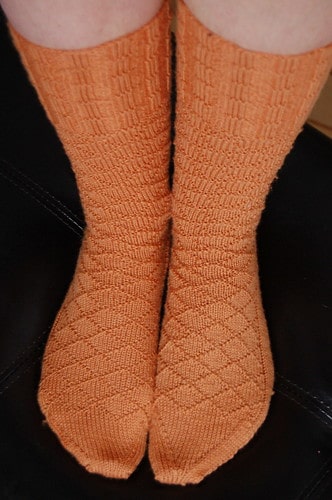 Pattern:Gentleman's Sock with Lozenge Pattern (rav link)
Yarn: Louet Gems Fingering in Citrus
Needles: 2.25mm dpn`s
I've deemed these my elf toes because they turned out rather pointy. I wasn't sure they were going to be very comfortable on but after a days wear I'm happy.  I love how snug they are on my foot, I'll definitely be knitting my socks in the new year on 2.25mm's. I seem to have gotten away from working wiith 2.25's and using a larger size but Nancy's pattern just remind me how perfect they are.
 I love a long leg on my socks and Nancy Bush's patterns do not disappoint in that department. Every pattern I have knit of her's has been the perfect length.   
 The only thing I would change about these, if I were to knit them again would be the purl stitch that runs down the back of the leg.  I don't mind the stitch at all but if you don't put them on EXACTLY they look wonky and it drives me nuts. I try to forget its there but that little purl stitch just keeps calling to me and reminding me its there.
So there you have it, another pair done and dusted! My sock drawer is finally starting to fill up with knit socks. I'd like for it to be all knit socks some day save my socks for the gym. Those thin dress socks just aren't cutting it anymore!'