Well… Boss had a good Easter!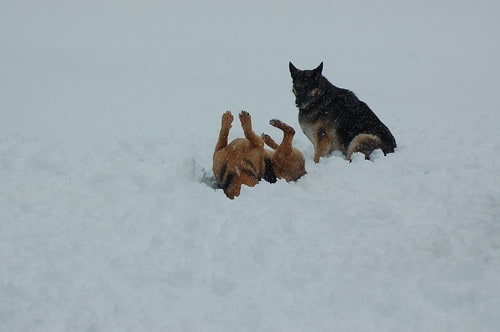 He was pretty pumped when we woke up to snow on Easter Sunday. It snowed all day and we ended up with over a foot of snow!
Moose wasn't exactly enthralled to have to plough the yard so our parents could get in.
T was hard at work last week making some Easter nests for our guests.
We used Chow Mien Noodles
Melted Chocolate
Peanut Butter
and Mini Eggs.
Not something we would normally have around here but I think we only ate one each and sent the rest home with everyone. It was fun to bake something together that she could easily decorate on her own.
Don't they look pretty displayed in her basket?
Her Basket also housed the eggs we dyed during the week.
Instead of dipping we left them to soak during nap time to get the most vibrant colours.
I'm glad to say that that snow melted in just two days and we are back to dead grass…… for now.