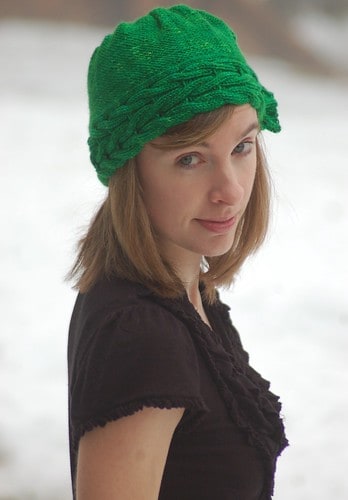 I was thrilled to be able to test Downton Girl by Melissa Schaschwary
I love cloche style hats but I was never sure if I could actually pull this off. Even while knitting it I emailed Melissa to ask if it was ok for T to model it because I didn't think I could pull it off.
T decided she didn't want to wear it even though the whole time I was knitting it she proclaimed it to be her hat.
It all worked out in the end because I absolutely love it!
This cabled brim, and the patterning on the side is so spot on.
I knit this with Elena's Colour Adventures yarn in the Jade colourway. Yes she dyes yarn too and the colours are absolutely amazing!!
It was totally fitting that Melissa called this one Downton Girl. Who doesn't have a love for Downton?? *If you have yet to watch Downton you need to run out and get season 1 and 2 NOW*
I also used this as my project for the Dowton KAL happening at luvinthemommyhood. The plan was to pick a project with a Downton feel to knit while watching Season 3.
There are still a few weeks left if you would like to join in.
After this I think there will be a few more cloche style hats in my future.