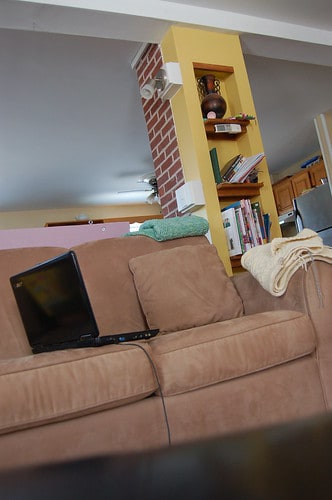 Day 14 – Where I craft
I'd like to say I use my little crafty corner upstairs by my stash to create in but it's right outside T's room and it would also mean the dogs would want to be up there with me  too. So instead when I craft, T is napping, the dogs are napping and I am at peace and can do as I please for a while.
Notice the light attached to the side of the shelves??? One of my V day presents from Moose. We don't have a light in the living room, who knows why the people that build this house thought they wouldn't need a light in the most used room in the house….. anyway…. Moose is always complaining that I have every light in the house on when I knit in the evenings…. well I do need to see what I'm doing and my computer screen just doesn't creat enough light.  A standing lamp would last about two seconds in this house before T, the dogs or Moose knocks it over so  I came home yesterday to discover he installed a light in the perfect location for my knitterly needs. He even put in a dimmer switch, how awesome is that??
The pink behind the couch is my new MASSIVE blocking board he also made that hangs from two eye hooks installed in the beam on the ceiling!! I've been looking at folding blocking boards because I might be stealing pieces of our gym floor when I need to block something. It wouldn't be soo bad if I didn't need to block as often as I do and Moose didn't use the gym every day
Two wonderfully crafty gifts from my most awesome Moose to enhance my knitterly life and my crafting space!
He is the best!!