is for Duffle Coat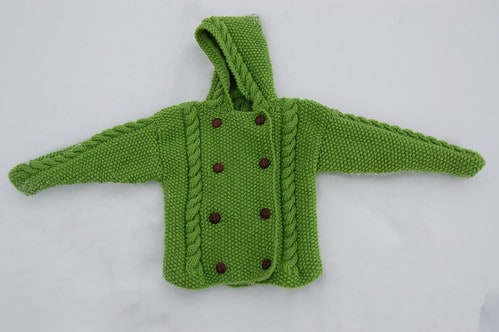 Pattern:  Duffle Coat by Zoe Mellor in Double Knits
            Yarn: Cascade 220 green 8903
            Needles: US size 7
           Start Date: January 2008
           Finish Date: 24th February 2008
*Waves white flag* Ok Jeanne, you win, I'm done with Moss stitch for a while!!! This project was getting very monotonous at the end, I just wanted it to be done but what a cute outcome.
I love this little duffle coat, and although duffle coats are supposed to have toggles I couldn't find the right toggles. I found plain wood ones but nothing at all like the dark stained toggles I had imagined. Mum came down last week with some mini buttons, a miniture version of what I have stashed away for a special cardi. I placed them against the coat and it was instant love. I couldn't have picked them out better myself. She only brought a card of 4 as she didn't realize there were 8 on the coat so when we were out yesterday I popped in to Fabricville and got another card. An pleasant reminder from Missyvanee to hurry the frig up and finish it already *and no she didn't say it like that :)* was all that was needed to pop those buttons on this afternoon and get some pictures taken. Sometimes all thats need is that gentle nudge for me to get something done. Thanks Missy!!
is also for Drive
All you need to do is say the words "Wanna go for a Drive?" and tails are wagging like helicopters and paws are dancing all over the hardwood floors. No not Moose's paws!
Molly and Boston's of course. Molly is pretty low key and doesn't dance about as much as Boston does on a regular basis but when you say Drive she is gone to the truck like a lightning bolt.  She runs from one side to the other wondering which side she's gonna get in. She WILL push her way through Boston to get into the truck first, while poor Boston has some trouble getting his footing for the step up.
Molly is the console driver, she has to have her head rested on the console, close to dad of course, while Boston likes to look over my shoulder or rest his head on the bench seat and look at the cars behind.  They are our constant driving companions and I couldn't ask for better.