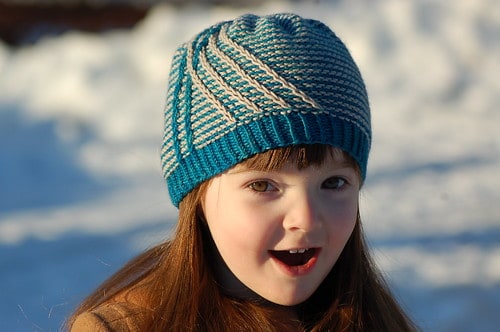 This was a quick test for Elena of Anadiomena Designs.
Pattern : Crossroads Hat by Elena Nodel
Yarn: Colour Adventures Sweet Merino DK in Aegean Sea and Debbie Bliss Wool Cotton Colour 125.
A sweet little hat that is perfect for using up all those scraps in your stash.
The whole hat uses approx 50 grams of yarn.
 Stripes are addictive by themselves but seeing that slip stitch pattern emerge really had we wanting to keep knitting until it was finished.
 A great unisex pattern to whip up for a gift.
I gave T a couple of colour options and of course she chose blue. It paired up very nicely with some grey left overs I had kicking around.
Little T is just getting over a bad bout of pneumonia and actually her first time being sick other than a runny nose. It was quite a shock for all of us when we found out she was so ill, at first we suspected the flu but when she wasn't getting any better we knew something was up.
Its so nice to see her smiling face in these pictures and know that she is back to the fun loving little girl we are used to seeing.
Definitely a deserving recipient of one of Mama's hand knit hugs!