Have you heard about it?
Contemporary Irish Knits by the lovely Carol Feller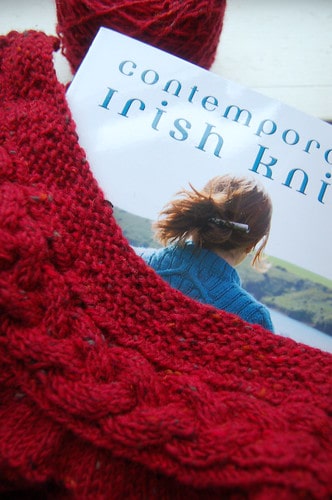 Carol's book contains 20 seamless designs focusing on the use of Irish yarns and inspired by Ireland's Knitting Heritage.
Carol discusses the orgins of Aran Knitting, takes us on a little tour of three remaining woollen mills that have been operating for generations as well as a look at the new generation of hand dyers emerging.
I don't typically sit down and read a knitting book from cover to cover but I did with this one. It wasn't a few patterns thrown together and displayed as a book. Carol really took the time to fill us in on the Irish Knitting Heritage, inform us about the mills and dyers while creating some beautiful designs. Its the type of book you could read again and again.
Here's a look at some of the lovely projects in the book:
Ardara
A beautifully cabled tunic length cardigan.
Trying to decide on a colour for this one.
Ballinagree
A geometric cabled boy's sweater.
Straboy
A stunning aran hoodie that I'm trying to convince Moose into wearing.
I really want to knit this!
Dangan
A cable and lace shawl/blanket
Is this colour not perfection???
(c) Joseph Feller
Rathcooney Hat and Fingerless Mitts
A beautiful set using the cocoon stitch.
and the one that sealed the deal on my purchase
Rossbeg
A beautiful cabled yoke cardigan that will be perfect for T.
(c) Joseph Feller
As you can see from the picture at the beginning of this post I'm currently working on Rossbeg in Tahki yarns Donegal Tweed. Its coming together nicely and I hope to have it finished soon.
If you aren't sold on it yet *then you are crazy!* there are still a ton of projects you can see here or on Carol's blog
If you are into seamless knits and cables I don't see how you could resist!