I'm always one step ahead of the game as far as the knitting queue is concerned.
I like to have an idea of what I could knit AFTER I'm finished the current one I'm working on. This usually works and I do finish most of the things I cast on for but right now the WIP basket is in need of a little clean out.
The problem right now seems to be the same problem I had this time last year…. SOCKS! For some reason I just can't seem to finish a pair without getting distracted by something else. This is also known as  "SQUIRREL" syndrome!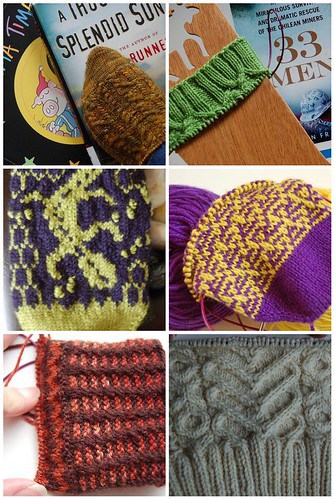 I enjoy knitting socks from time to time but this year I have definitely found a love for knitting garments.
It didn't help that I signed up for 12 in 2012 and was determined to knit 12 pairs of socks from my stash.
I did manage to finish My Rainbow Brite socks, Taglioni's and my Peppermint Puke socks which I have yet to show you.
If I had my WIP"s finished then I would have 8 pairs complete which really wouldn't be too bad its just the FINISHING them I'm having a problem with.
I'm obviously not going to be able to finish them all in less than a month but I would like to finish up one or two pairs so that I can have a fresher start come January.  The bottom right isn't a sock its my I Heart Aran, the only sweater I have on the go right now. I had to do some ripping due to my gauge being off but I'm getting back on track and would like to have this one done for Christmas.
Anyone have any ideas to help me get these socks OFF my needles and on my feet??