This sweater is the epitome of comfy!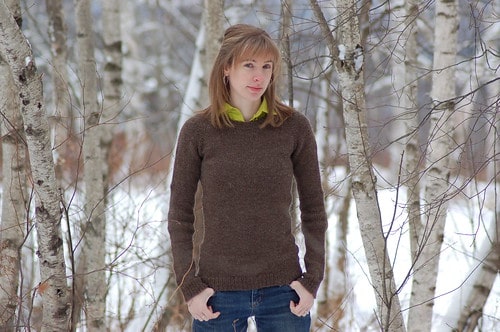 Pattern:Classic Raglan Sweater by Jane Richmond
Yarn:Lion Brand Fisherman's Wool in Nature's Brown
Mods: I did have to lengthen everything to fit my long torso but other than that the numbers worked out great for me.
The Fisherman's Wool was great to work with, I love a good, warm workhorse yarn and this one fit the bill perfectly.  The colourway, Nature's Brown is such a beautiful  heathery shade that makes it stand out from other solid shades.
My only wish is that they had more of a colour choice. There are only so many garments you can make out of the same 3-4 colours that fisherman's wool comes in before it gets a bit boring.  I do however have plans for another one using a coloured yarn from my stash, maybe a third too!
It's -14 out today so the photo shoot didn't last long….
Throw the jacket off, run to the right spot, click click click and reverse the process.
If the weather says this cold I think I"ll be living in this sweater for the next few months and I'm not a bit bothered by that!