Things have been super busy around here and it seems like I only have time to post and go as of late.
Hopefully things will settle down in a bit and I can post some of the other things I've been meaning to chat about but until then how about another KAL update.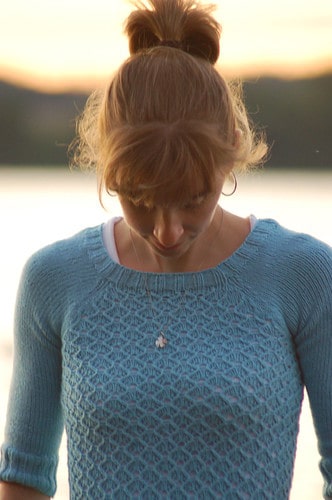 I finished Chalkstone!
Pattern: Test knit of  Chalkstone by Isabell Kraemer 
Yarn: Rowan Calmer colour # 487
Mods: There were a lot of mods for this one. The xs in the pattern had a bust size of 38 which I knew would drown me so I sized down the pattern to be about a 32.
You can see my notes about specific numbers for the body and sleeves here.
I also had to play around with the raglan decreases to make sure I had enough of the pattern left on the front and back when I reached the neck.
It took a lot of trial and error to get this sweater just the way I wanted it but I am glad I put the effort in to a create a sweater just right for me.
This is the first time I have worked with Rowan Calmer, such a great yarn that has sadly been discontinued!
It was extra springy, super stretchy and really nice to work with.
When I say stretchy I mean REALLY stretchy! Before I blocked this sweater it seriously could have fit T.
I love the results of the elbow length sleeves.
They really suit the colour and feel of my version making it a great summer sweater.
When I started this knit I thought the colour would not suit me well but upon completion I couldn't be happier and will definitely be keeping an eye out for more of this colour.
*Special thanks to Dad for taking these pics for me*
I'm guest posting on LuvinTheMommyHood today!
Head on over and take a look