Sorry its been so quiet around here.
We are knee deep in renovations….. spur of the moment renovations at that. For a long time we've been talking about splitting our bedroom, which is the length of the house into two. We definitely don't use the extra space and it could be put to better use as a spare room.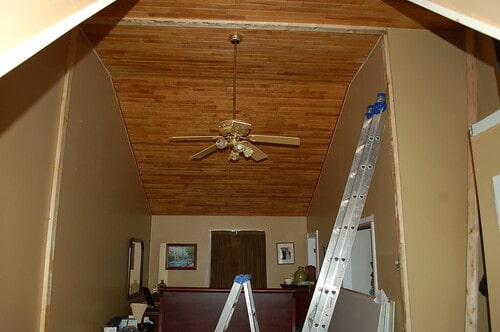 So yesterday we got started!
Of course the only way to reno on the coldest week so far this winter *a frigid -25 C* is to wear stripey legwarmers with your work boots.
Things are going well and T is very excited to help us paint when we get to that point!
On the knitting front, I've picked up the only current WIP I have left to finish.
This is the French Braid Cardigan by Tanis Lavallee
I'm pretty sure I started this the day Tanis released the pattern, Ravelry tells me it was April 26th. It is a top down cardigan and I managed to plow through to the underarms fairly quickly but then I was bombarded with tests and I knew I would need lots of concentration to do the body, so I set it aside until I could devote the time to finish it.
Well….. more than enough time has passed, the backlog is clearing up and I'm finally saying enough is enough. I want to wear this beauty so before I cast on for any more sweaters I'm going to finish this one first.
There was still a problem…. at the time I decided I was going to finish it I was really  craving stockinette and something mindless. I did start something else that I will share with you next time but now its full steam ahead to get this finished so I can wear it. I'm working on the second sleeve which is so close to being done and then I get cruise through the body.
What are you craving with your knitting right now??