Have you heard the name Jeannie Cartmel in your travels?? Maybe you would recognize her designs first.
I'm absolutely smitten with her work. Jeannie's designs are the mostwonderfulcablicioussocks you ever did see.
I've been fortunate enough to test knit a few of Jeannie's designs as of late. They are every bit as lovely as they look.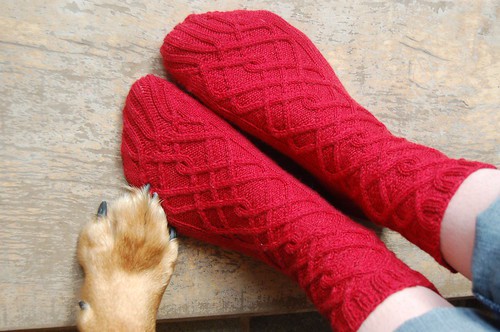 Taglioni is my first finished pair. *only one sock needs to be knit for each test.*
They are knit toe up with the ribbing blending nicely into the cable pattern. It was my first time using a short row heel toe up and they fit wonderfully although I am finding that I need to go up a needle size once I hit the leg.  Cables on both sides make them draw in too much to get my high instep through.
The pattern is finished off nicely with a repeating cable up either side of the leg.
Perfection!