It's all Tanis' fault!
I needed to take a small break from all those twisted stitches on the Sailing Sweater and I had a couple hours drive that needed to be occupied with a simple knit.
Tanis released a hat pattern called Cabled Canuck before christmas and its all I could think about. This drive was the perfect opportunity to whip it up AND satisfy my need for something a little different.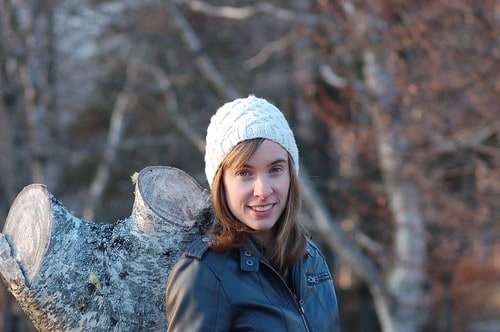 Pattern: Cabled Canuck by Tanis Lavallee
Yarn: Cascade 220
This cabled beanie knit up quickly on 5mm's and worsted weight yarn. There was enough cabling to keep it interesting but not too much that you were always refering back to the chart. *note I get motion sickness quite easily but as long as I just keep to one thing and I'm not flipping back and forth I'm usually ok*
The yarn for this hat is actually recycled from what was once my Gretel. I loooved Gretel but the tubular cast on I did at the brim was way to tight and therefore always hard to get on and kind of hurt when I did have it on. Instead of having it sitting in a basket getting unused I decided to unravel and create something new with it.
I was and still am a little weary that I don't suit this style of hat but I love my Chevalier mittens and thought that hat would go well with them  so I decided to forge ahead.
I love how the decreases create a beautiful cabled flower on top. So what do you think?
Do I suit it or should I stick with the beret style?
If all else fails it looks super cute on T!
Now Tanis, please no more MUST KNIT patterns, at least until I'm finished this sweater k?