In an effort to catch up on the ABC along here is my C post.
                                                      C is for asting on obblestone!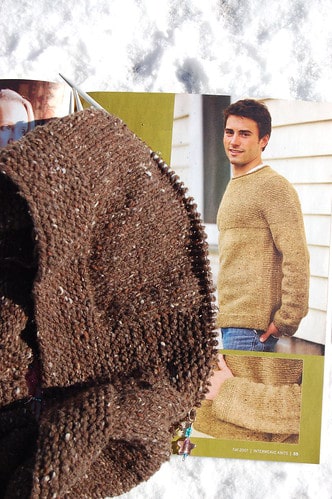 Finally I have a few knits out of the way so I could ast on for this sweater. I've only had the yarn for a little over a month…… every day it would stare at me, BEG me to ast on. I'd tell it well, maybe tomorrow once I get that duffle coat of my needles. Then it was well, I really should finish the sleeves of that sweater I've been working on since 2007…. FINALLY it is all done, FINALLY I can ast on. I'm using Queensland Kathmandu Aran which I bought at Webs last month. I'd wanted to use the Skye tweed that the pattern calls for because there is such a great defination with the stitches but everyone knows its now discontinued and I sooooooo missed out on the big sale at Webs last summer *sigh* So the lovely site that is Ravelry had some great finished Cobblestone's made with the Kathmandu. I checked on Webs and at 4 dollars a ball how could I go wrong. I cast on for this on the 26th and let me just tell you how fabulous this yarn is. I was expecting it to be rough and arany but it is soooooo soft and just scrumptious to work with. Finally after working about 5 inches with the stuff I looked at the label…. 85% merino, 10% silk, 5% cashmere…. Holy crap that would explain it! Now I'm wishing I would have got more of this stuff for a sweater for myself. I'm having the greatest time knitting this pattern, I don't know what it is exactly that is captivating me, its just knit and purl after all but there is something about the two side sections of purl that has me in a trance. I can't stop knitting!! I say to myself ok I'll knit till the next purl section then go do something, but when I get to that purl section I have to knit it, and when I've done the purl section I have to knit the next section and when I knit the knit section I have to knit the purl……… ahhhhh the cycle is endless but it sure is making the body go quickly. I'm alot farther on than this picture now, I may have the body finished up today or tomorrow as there's only 5 more inches or so. Moose just might be able to wear it this year yet
Enough about Cobblestone, are you all wondering how the clogs turned out and what Moose thought???? If your not then why the heck aren't you!!! *grins* Ok really though the clogs are felted. Moose loves them, and can be seen prancing about in them during the evening's. That makes me one happy Donkey!
and it just hit me….. is for Clogs!
       Pattern: Fiber Trends Felted Clogs Men's Medium
       Yarn: Lion Brand Felting in Chocolate, Patons Classic Merino Wool in Old Gold
       Needles: 9mm circs
       Start Date: Feb 20th 2008
       Finish Date: Feb 22nd 2008
So as you all know I ran out of brown, 6 rows too short and had to use the gold for those extra six rows because of this I had to felt that slipper a little bit more to catch up with the other. They turned out wearable in the end and thats all that matters I guess. I will be knitting this pattern again, in the near future, as I plan on making a pair for my mum and dad for when they come to visit.
Next post will be all about Hooking, for Monika, you will be able to see just how its done. Maybe not ALL about hooking, you'll have to wait and see