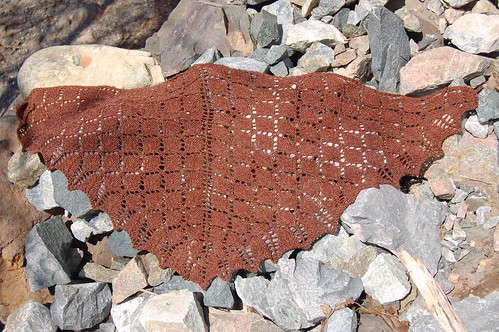 Pattern: Forest Canopy Shawl by Susan Lawerence
Yarn: Elspeth Lavold Silky Wool
Needles: U.S. 8 circs
Start Date: March 22nd 2008
Finish Date: May 11th 2008
I made this shawl for my mum, for her birthday on the 17th of May. I knew I wanted to make her a shawl, my very first lace project and shawl project and had had the exact pattern and yarn in my stash for a while waiting patiently to be knit. Laura gifted me with the pattern when I went to visit her in Kansas last year and the yarn I bought online months ago with mum in mind as she loves brown. I only really worked on this shawl for 4 days out of the almost two months it took to complete. My biggest mistake was putting it down after the second day and starting another knit. NEVER AGAIN will I do that…. with lace I mean, i'm not getting too carried away. It just wasn't the same the next time I picked it up, I couldn't seem to get a flow again like I had originally. Alot of tinking occured, some mistakes, tinking, frustration and finally I decided I'd done pretty dang good on my first lace project and cut it short. I wanted to make it twice the size but ended up only added 2 extra repeats, to save my sanity.
Now that the shawl is done two knits have been occupying my time. The first is Clapotis from Knitty.  I'm sure i'm the only knitter left that hasn't knit this and never really had the desire to until a few weeks ago. I wanted a simple wrap type garment to mostly just cover my arms up when i'm sitting for periods of time during the summer, I get cold fairly easily and Clapotis seemed like the perfect antidote. I'm using Fearless Fibers Mermaid that I won in one of Kelli's contest's oh a year or so ago. This picture doesn't represent the true colours very well, its much brighter in daylight, more pictures to come.
The second knit was actually the culprit that drew me away from mum's shawl in the first place. Its Anne Elliot Spencer by CanarySanctuary, a popular queued item by many folks of ravelry but not many knit up. I have one more front panel to knit and it will be complete. Can't wait to wear it!