Well here we are ready to get our knit on!
This group has grown from a few friends wanting to knit this cardigan together to a group of ladies across the globe ready to tackle this .
There are 25  29 of us ready to cast on with more joining everyday!
Please check the list below and let me know if you are joining and I've some how missed your name.
SARAH   HEIDI  MICHELLE   HANNAH   RONNIIE
JESS   EVELYN   ANNABELLE2   ELIZABETH
CHRISTINED   LETE   ALAINA   SARA  KELLY
REBECCA   JESSICA  SHANNON   GEORGIE
LACEY   TINA  JEANNIE  EMILY  ANNIE
KATHERINE  KATE  MEGAN  IGNASIOWA
ROSE
I did two gauge swatches for my Aidez and ended up going with the needles from the first swatch.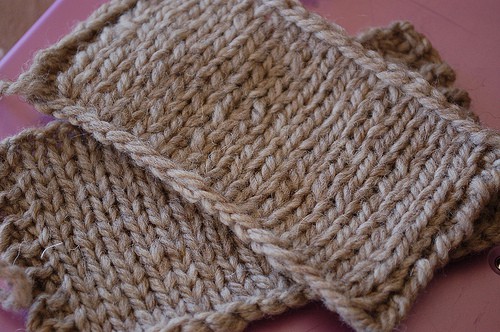 Swatch one was knit with 10.5mm's the needles called for in the pattern. I ended up with 3.5 sts by 5 sts. I wanted my stitch gauge to be on and wasn't that concerned about it being a tad bit longer. I can also just knit to the length I want if I have to as well.
Swatch two was knit on 10mm's. I ended with 4sts by 5.5's. I thought I might knit a larger size at a slightly smaller gauge to create somewhere around a 34 but a lot of people have commented that they found it small fitting. Well I don't really think that 100% accurate. The Eco Wool that sooo many people have used for this cardigan is bulky weight where as the original Aidez was knit with a super bulky so the Eco would indeed create a smaller cardigan than called for if they used this yarn.
That being said I'm going to go with the needles called for in the pattern, cast on for the 36 and then adjust the length if need be. I would normally knit a 32 but I don't want this to be too fitted so hopefully this will work in my favour.  I also usually need to add length to patterns so I really don't think I will have a problem.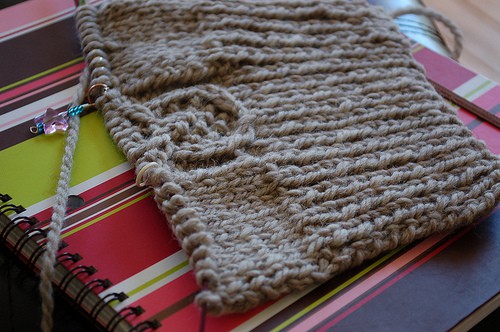 I'm casting on for sleeve number one today.
Anyone new to my blog will come to realize that I like to knit my sleeves first and get them over and done with while the pattern is still new and fun. No SSS (second sleeve syndrome) here!
I've added a link to the bottom of this post. Just add your name and blog post/url for ravelry so we can keep tabs on your updates/ how everyone is doing and chat about our progress. If you have your project on Ravelry please tag it with CCOAIDEZKAL so we can find everyone's projects! For those of you that don't know I am CelticCastOn on Rav and my project page is here.
So tell me, how did you get on with your swatch?
What part of Aidez are you casting on for today?
So excited to cast on with you!
Now let's get knitting!!