It's been a week already!
We are now up to 32 participants I have linked them all below.
SARAH   HEIDI  MICHELLE   HANNAH   RONNIIE
JESS   EVELYN   ANNABELLE2   ELIZABETH
CHRISTINED   LETE   ALAINA   SARA  KELLY
REBECCA   JESSICA  SHANNON   GEORGIE
KATHERINE  KATE  MEGAN  IGNASIOWA
So how did you make out this week? Were you able to cast on? Did you make any progress?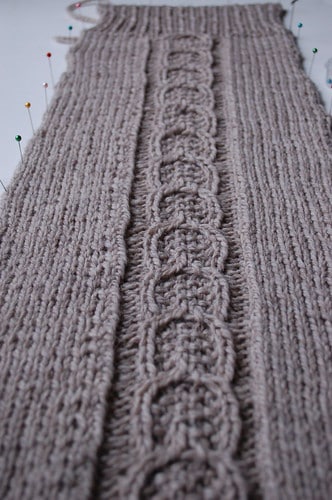 As you know I started off with a sleeve and amongst everything else going on was able to finish it.
I ended up making the sleeve 2 inches longer than called for in the pattern. I have long arms and I prefer my sweaters to go past my wrists otherwise I end up hauling them down all day long so I'm hoping that little bit of extra length will be a perfect fit.
The yarn and needle combo really makes this cardigan flies off the needles, its so nice to knit something chunky every now and then.
I did see some great progress being made by other participants via blogs and Ravelry this week.
Sara from LundenKnits is cruising right along with her beautiful pumpkin version.
Photo Copyright LundenKnits
There aren't many coloured versions on the go, most of us have chosen to go neutral but I do love seeing bursts of colour here and there. Doesn't this just scream Autumn?
Heidi from Lilibeth's Garden  is choosing to knit the body in one piece and things seem to be coming together perfectly!
Copyright Lilibeth's Garden
Tina of Peacfully Knitting is joining me in knitting the sleeves first.
She's getting some beautiful stitch definition with the Plymouth Baby Alpaca Grande she is using.
If you have questions or comments about the pattern feel free to post them here and I'll answer them as quickly as I can. Others are also welcome to chime in too.
Don't forget to tag your projects on Rav as CCOAIDEZKAL that way everyone can see your progress. As always if you need help with tagging just ask!
Make sure you link your blog or rav page using linked simply below so we can all visit your progress. All you need to do it enter your name and url !