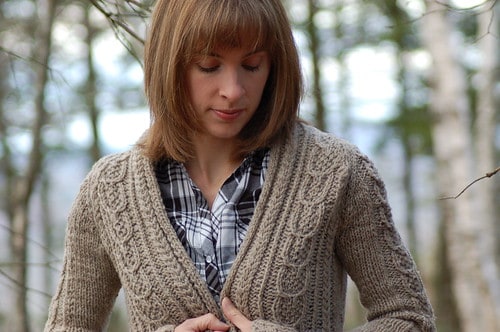 Pattern: Aidez by Cirilia Rose
Yarn: Cascade Ecological Wool colour 8061
Size: 36″
It is finished and I am tres happy.
I knit this in size 36 instead of my normal size 32 and it has the perfect amount of ease, Not too tight and not too bulky. I didn't have any issues with the sleeves being too tight or the armholes not being long enough like so many others did with this gauge because I did go up a size. It is supposed to be a bulky oversized cardigan and I think others weren't taking into account the different the smaller gauge yarn made.
It overlaps nicely in the front for when I want to wrap up a bit but also looks great open as well. I really enjoyed working with Cascade Eco and will definitely keep it at the top of my list for other bulky knits.
The only modification other than adding a bit of length to the sleeves I made was to add pockets. I did this after I had knit and seamed the fronts. I picked up the amount of stitches needed to knit the panel on the front and knit as per pattern. When I got to an edge I picked up one stitch and purled it or knit it together with the last stitch on the needle creating a seamed pocket as I went.
I couldn't be happier with how they turned out and my phone fits in there perfectly.
I think there will be another Aidez in the future maybe with a different cable pattern and in a colour. This one is just too comfy not to have two.
You have until the end of today to get your pictures up to be entered into the drawing for the Aidez KAL.
The FO Parade is coming right up!