8:15am Ahhhhh *stretch* day off with my Moose on a lovely spring day… *looks out window*
GASP!!! LOVELY SPRING DAY!!!!! WHAT HAPPENED TO MY LOVELY SPRING DAY????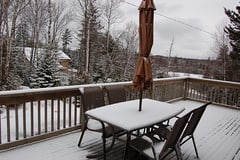 That would be a couple of inches of snow that fell last night POOEY! When are we going to get spring like everyone else??
***Mum I am sooooo sick of this snow…. when can I get outside and rub my head on that great big pole out there????***
The stole is finished, save the fringe that I'm going to put on it today, then I need to block it abit and it will all be ready to go. Pics when its all said and done.
The only other knitting i've been working on is the ribbing for the back of my central park hoodie. It sits in my bag and goes everywhere with me but I rarely have had the time to even knit one row. That 4 inches of ribbing is going mighty slowly but I did manage to get to the end of it the other day at work. I'd been having severe problems with my ribbing which I didn't realize was a problem until I read this over at NonaKnits. One example of my ribbing woes is my fetchings pictured here.
See the last stitch of the knit stitches??? Its trying to break free from the other stitches and join the purls. I've had this problem for as long as I can remember but just thought it was a loose knitting problem *even though I'm a very tight knitter* When I saw Nona's post I was like HOLY CRAP I must try this. I cast on right away for the back of CPH and this is what happened!
HOLY CRAP IT WORKED! All these years and all I had to do was knit into the back of a stitch???? GENIUS!!!! That being said I still have a problem with the last night stitch on a cable being loose even though I pull tight for all i'm worth. I tried the same technique but alas it did not help. Anyone have any suggestions???