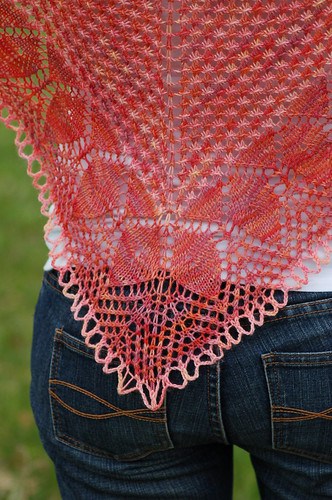 This beautiful shawl was a test for Tanis of Tanis Fiber Arts
I fell in love with this design when I first saw a sneak peek of it on the banner of Tanis' website
Not only did I get the chance to test one of Tanis' patterns , I also got to try Tanis Fiber Arts  yarn's for the first time and it didn't disappoint!
Pink Grapefruit, one of the newest colours in her collection, happens to be one of my favourite colourways.
I paired it with the Sunset colourway and love how they look together.
Although Adhara uses two colourways, it looks best when the 2 shades are similar and don't have a stark contrast,  colours that will just flow into each other.
Pink Grapefruit and Sunset do that perfectly!
Adhara is a triangular shawl worked from the top down. It starts with a beautiful star stitch pattern knit in alternating colours, a lacey leaf border is added followed by a dainty little crochet border that really sets this whole design off.
I don't know what's NOT to love about this design.
There is just the right amount of each section to keep you interested, anticipating what comes next.
Blocking of course is when the real magic happens. The star stitch pattern really opens up showing off those beauitfully subtle stripes and you really get to see how pretty that little crochet border is.
As is the case with all Tanis' designs, this was a purl delight to knit and I'm thankful for the opportunity to try Tanis wonderful fingering weight base in such beautiful colours!
It wasn't until I had finished testing Adhara that I learned it was to be part of a collection.
4 lacey summer patterns designed by Tanis Lavallee  and Julie Crawford
Together they have taken different TFA yarns  and designed some beautiful pieces that really show off the yarn and amazing colours that Tanis Fiber Arts is known for.
You already saw the first design Adhara but I must show you Tanis' original version in a completely different colour pairing.
Tanis chose Shadow and Atlantic for her version which made me fall in love with the shawl in the first place.
It will be interesting to see what colour combo's ohters come up with when they knit Adhara
Suncrest is Tanis' second design in the collection.
The simplicity of garter stitch paired with a beautiful Fan Shell border really makes this one pop. The arc shape is very appealling and modern, this shawl that would be perfect to wear anytime.
Knit Suncrest with that skein of variegated yarn you've been stashing and just didn't know what you would use it for or that super special luxury skein you have been hoarding.
Solaria, Julie's first design  is a gorgeous lacey cowl/capelet.
 If you read Julie's blog or have come across some of her projects on Ravelry you know she loves capelet's and wears them a lot so it was no surprise to me we I saw that she had designed her own.
The capelet however is quite different to the bulky cabled ones I have seen on Ravelry. Delicate and lacey sets the stage for this beautiful knit. A small project with just the right amount of lace to hold your interesting and keep you on your toes.
As a cowl it would be the perfect way to add a pop of colour to a plain jacket or wear it over a t shirt but wouldn't it also be adorable keeping your  shoulders warm over your favourite sundress on a summer evening?
Nashira is the final design in the collection and also designed by Julie
This design screams elegance to me.  Long lines, a drapey silk fabric and just enough lace to keep it simple yet modern.
Nashira would look perfect paired with a simple evening dress that shows off the beautiful lace work and yet not too dressy that you couldn't wear it every day as a scarf or shoulder wrap.
How is that for a beautiful collection??
Tanis and Julie have generously offered up the entire Stella Collection to giveaway to one lucky commenter.
In order to be entered into the draw you'll need to do two things.
1) Tell me which Stella Design you love the best
AND
2) Head on over to Tanis site  and tell me which colourway you love or would like to knit your favourite design with.
You'll have until Friday July 6th to enter the drawing.
 The winner will be annouced the following Monday, July 9th.
Good luck to you all!